Roller Derby Books
Roller Derby Videos
---
Lars Thomsen Receiving an Award in 2001
Copyright © Bornholm Rulleskøjte Klub


Lars Thomsen is the chairman of the Bornholm Rulleskøjte Klub, a large inline skating club on the Danish island of Bornholm, which is located in the Baltic Sea, East of Denmark, and underneath Sweden. In the inline skating world, Bornholm is most well-known for Bornholm Rundt, a 100K race around Bornholm Island, that takes place every August.

In March of 2001, Lars received an award from the District of Bornholm for his outstanding athletic achievements in the year 2000. Lars did not start skating until 1997, when he was 37 years old. That first he finished the Bornholmrundt 100k in 5 hours and 34 minutes on four-wheel plastic inline skates. He went on to become one of the best master speed skaters in Denmark, winning seven Danish championships in 2000.


2000 Indoor Champion
1000m sprint
3000m sprint
5000m last man out
2000 Outdoor Champion
10k point
20k time trial
42k marathon
100k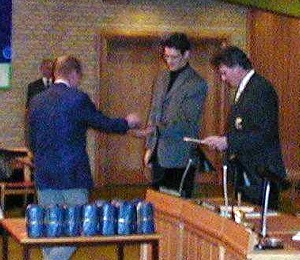 Lars receiving an award for his achievements in 2000

Copyright © Bornholm Rulleskøjte Klub



More About Skating in Denmark
Bornholm Rulleskøjte Klub (BRSK.dk)
Bornholm Rundt 100K (Bornholmrundt.dk)
Introduction to Bornholm Island (Durant Imboden)
Cecilie Mogensen of Bornholm Island
Skating in Denmark
---
Related Links
Lars Thomsen - Main Menu
All Inline Speed Skaters
All Skaters by Country
Skating in Denmark
Translate Any Web Site or Phrase
---
Skating in Africa | Skating in Asia | Skating in Europe | Skating in Oceania | Skating in The Americas
Inline Skate Shop
Roller Skate Shop