Roller Derby Books
Roller Derby Videos
---
A Tribute to Speed Coach Mike Jackson
Montgomery, Alabama USA
Long-time United States speed skating coach Mike Jackson of the GT Speed Club in Montgomery, Alabama died in the early morning hours of Monday, June 28, 2004. The speed skating world has lost a good friend.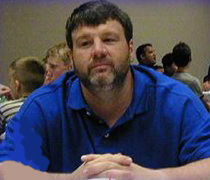 ---
FROM TISH GORMAN


"Our hearts are heavy as we say good-bye to our dear coach and friend, Mike Jackson. Mike, long time coach of the GT-Montgomery chapter, passed away on Sunday in Montgomery.

Mike always had a ready smile for everyone. He was always there in support of all members of the team, not just Montgomery kids. Mike was the team therapist, he could often be found in the skater ready area, stretching someone's legs before a race. He was, as one of the skating moms put it, "a really big guy with an even bigger heart." Mike was always willing to share of himself, giving shelter to skaters who needed it, even for months at a time. He had learned a lot of hard lessons in his lifetime, but he learned from those lessons, and shared them with everyone. "Hard work and integrity earns you respect of your friends, and even though you might not be money-rich, as long as you have friends, then you are wealthy indeed!"

We are all going to miss you so much, Mike. We will carry the lessons you taught us to Nationals and throughout our lives. Thank you for being a part of our journey!"
~ Tish
---
FROM CHARLIE BENNETT


"Mike Jackson was a good friend and mentor. He will be truly missed by all who knew him, because if you ever had the privilege of meeting Mike Jackson, then I know without a doubt, he touched your life."
~ Charlie
For more tributes to Mike Jackson
see the Web sit of the GT Speed Club.
---



Share Your Thoughts About Mike

If you would like to share your memories and thoughts about Mike, please post your comments in our Mike Jackson Forum Thread and I will add them to this page.


---
Related Links
Skating in Alabama
GT Inline Speed Skating Club
All Skaters by Country
---
Skating in Africa | Skating in Asia | Skating in Europe | Skating in Oceania | Skating in The Americas
Inline Skate Shop
Roller Skate Shop