Roller Derby Books
Roller Derby Videos
---
Suzan Davis at Long Beach 2002
(book author wants to interview skaters)
by Suzan Davis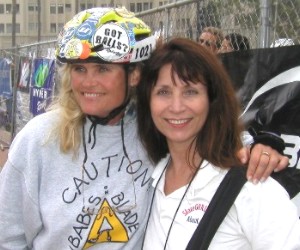 Suzan Davis (left) in Long Beach with
SkateLog editor Kathie Fry
Photo copyright © SkateLog.com

Picture this: Instead of cars and trunks battering the pavement of Your City, USA, there is only you and the skates under your feet. Acres of asphalt meander and twist over freeway overpasses and onramps that melt into side roads, beach paths and two-way streets that weave through sleepy parts of a city whose well-kept gardens explode with geraniums from porch to sidewalk. People clinching steaming mugs of coffee cheer from curbside. Cheer for you. If you are like me, you'll finish tenth to last out of the 704 skaters, but you put extra oomph in your push as you pass, for good measure. Water is thrust at you every few miles by some of the 1,300 volunteers, which include the National Guard and Navy cadets. Ah, life is good for the skater. A Cliff Bar gel-raspberry something-awaits you at the top of the next hill. Around the bend, the opposite side of the street erupts with runners while a single wheel chair makes its way in the middle, otherwise empty lane. Police populate intersections, keeping cross streets clear of traffic. What a scene! No automobiles, only cops, cones and folks pointing you into your proper lane. This is no fantasy; this is the Long Beach Marathon.

Skaters - Share Your Experiences
Did you experience this event on October 13 of this year? If not, do it next year. If you did, I would like to interview you about the marathon and what made it interesting-the people who participated. I am particularly interested in recreational skaters-folks who will never come in first, second, third or 200th, but feel like winners for getting out of the box and showing up. Were you nervous? What inspired you sign up in the first place? Did you think you would finish? What was the best part? After taking on this endeavor, do you feel like you can conquer challenges in your everyday world?

The resulting articles will be published in magazines and newspapers. The audience is not necessarily skaters, but many may want to give the sport a try after reading about your experience. Please contact me at suzandavis@rcsis.com. I am a journalist and author of an inline skating book, Babes on Blades: Drop Physical, Mental and Spiritual Flab Through Inline Skating.




Babes on Blades
Article copyright © Suzan Davis
Inline Skate Shop
Roller Skate Shop