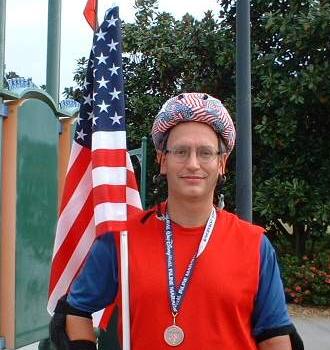 Copyright © Kathie Fry
On March 30, 2003 Tony Herring skated the entire Disney World Inline Marathon in Orlando, Florida carrying a large United States flag. When I saw Tony at that event, I assumed he was the same person who skated the 2002 Duluth Marathon carrying a flag, but I was quite surprised to learn that not only was this the first time he had skated with a flag, it was his very first inline skating competition ever. Tony did not really start skating until he was 37 years old, and within a year after starting to skate, he participated in a full marathon - the March 30 Disney race in Orlando. After the race, I contacted Tony and asked if he would answer a few interview questions, and he kindly agreed.
~Kathie Fry, Editor of SkateLog.com
---



The Interview



Kathie: Hello Tony, thank you for agreeing to answer a few interview questions. How long have you been skating?



Tony:

I actually tried inline skating for fun back in 1994 when lived 4 blocks from the Atlantic Ocean in Ocean Grove, New Jersey. I bought a cheap pair of skates for $39.99 at Walmart. It was fun but I then moved back home to help my Mom out with my father, who later past away from brain cancer. I had to stop skating during that time. In July of 2001 I decided to start training to run in the 2002 Disney running marathon. I did OK in the marathon - 5:45 was my time. I vowed to run the marathon again in 2003 and do better, which I did. While I was training to run the marathon, I received email about the First Disney Inline Marathon, I decided that I wanted to be one of the first to skate in that marathon,

Kathie: Why did you decide to skate the Disney race carrying a large United States flag?



Tony:

Actually, I first carried a flag during the Disney running marathon. I decided I wanted to do something to help motivate myself during the running marathon, so I decided to run with the Stars and Stripes. There is nothing more powerful to me then what our flag represents. I remember being in the army and coming back to base and seeing our flag flying high and proud. So in September 2002 I decided to decided to run carrying the flag.

Kathie: That first time you ran a marathon carrying the U.S. flag - what was it like?



Tony:

Kathie let me tell you I never really realized how much the Stars and Stripes meant to others. It not only motivated me but others were thanking me for running with it, the cheers and chants of U. S. A. from the crowds. I emotional moved people, A nice old lady in the crowd wanted her picture taken with me, so I stopped for that. She hugged me so hard, and started to cry and was thanking me, and it brought a tear to my eye. There are so many more stories to tell about that marathon. It moved me so much that I ran a 4:40 marathon cutting 1:05 off my last year's time. I would have done better if I didn't stopped for all those pictures, but it meant so much to everyone that I told myself that from that point on, I would carry the Stars and Stripes in every race. And I have. I ran with a flat in the 2003 Disney Marathon, and I also ran in five 5k's and one 12k and I have another race this weekend. I am now being called "The Flag Guy." My wife, who is a big part of my support group, made my hat, my helmet cover and my racing shorts. God I love her so much. Her name is Jan.

Kathie: How did you train for the skating marathon?



Tony:

I started to train and learn how to skate during my running training. I would run 5 days a week and skate 4 times a week with 2 days off. As soon as I finished running 6,7,8, and 15 miles I would skate for 30 minutes to 1 hour.

Kathie: How many events have you skated carrying a flag?



Tony:

The 2003 Disney Inline Marathon is the first inline marathon I have ever done. I am looking for more marathons to skate but I can't find any in the Orlando area. I will definitely be at the 2004 Disney Inline Marathon with my flag.

Kathie: How many events have to run or skated carrying a flag?



Tony:

Just the 2003 Disney inline marathon, plus the running events, 2003 Disney Marathon, Universal Run Around the Universe 5k, Outback 12k, Run Around the Lakes in Windermere Florida, and the Vacation 5k I-Drive in Orlando, If you know of any local races in my area let me know and I will be there.

Kathie: Isn't it exhausting to skate a marathon carrying a huge flag?



Tony:

This is probably the question I am asked most often, along with "does your arm get tired" and "is the flag heavy", I have to say that for me, holding the flag is all mental strength. I ran the Outback 12k holding it only in my right arm but for the Disney inline race I held the Stars and Stripes on my right arm in the iron man position. That did take some strength, especially when I picked up a lot of speed going down hill. Talk about drag! But if I needed to, I knew I could use the flag as a wind sail (parachute) to slow me down, LOL.

Kathie: Any tips for people who want to try it?



Tony:

It's something you want to do. Believe in yourself and you can do anything your mind tells you. It is such a rush when total strangers start chanting for you.

Kathie: Do you think you will do it again?



Tony:

Not just yes, But HELL YES. I couldn't image doing a race without it, It is part of my inspiration.

Kathie: What events do you expect to skate in the next 12 months?



Tony:

I will do the 2004 Disney Inline Marathon, I will also run the 2004 Disney Marathon along with some 5k, 10k races. I am currently looking for some inline races in my area.

Kathie: Will you really carry a flag at every race from now on?



Tony:

I sure will carry the Stars and Stripes. I truly believe in what it represents, and now I know that by carrying it, I can helps others. During the Disney Inline Marathon there were two guys who were friends, and they used me to pace themselves. Anytime I passed them they laughed and said "We can't let the Flag Guy beat us." They skated the half marathon, and later, as I passed the Yacht and Beach Club, they were out there cheering me on.

---
More About Tony Herring
More About Skating in Florida
More Skater Profiles