Roller Derby Books
Roller Derby Videos
---
Ulf Haase Takes a Fall
?
A note from Kathie: Ulf gave me permission to post his injury photos and his story on my Web site, but I could not do that without also publishing a "before" photo of this Swedish Adonis. I just happened to have a lovely photo of him in my files, leftover from my trip to Mallorca last April with 40 Swedes. But that's another story... (see Daniel's Wild Week in Mallorca).
From Ulf Haase:
I was skating alone in Stockholm, and was planning to go 70 km since that is the distance of Solskenet, the largest inline skating competition we have in Sweden. After about 15 km, the bicycle path I was skating crossed a road, and after that the path took a sharp turn to the right. My speed was too high to take the turn, and my left skate slipped across the grass and into a ditch. I fell, and unluckily for me, I encountered a manhole cover which my face swept along.

After I fell, I just sat there alone, trying to figure out where all the blood in my mouth and face was coming from. But I was lucky, because it was just a nosebleed. The front of my helmet helped to keep my nose and teeth away from the asphalt. It is only because of that extra centimeter on my helmet that I still have them. I also got a large bruise UNDER my kneepad, so I am glad that I always wear them.

The most stupid thing I did was to continue skating the rest of the 70 km after my nose stopped bleeding. Later I realized that I could have had a brain concussion!
- Ulf Haase, Stockholm, Sweden

PS:
If you want to know how things went for me six weeks later at the "Solskenet 2001" competition that I was training for, you can connect to my home page at http://www.ulfhaase.com and select the link "Inlinepictures".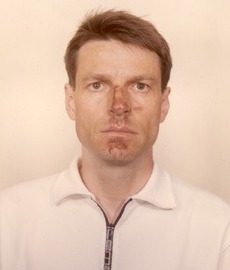 Copyright © Ulf Haase



Related Links:
UlfHaase.com Ulf's Home Page
Skating in Sweden

Tell Us About Your Worst Fall
Read stories about falling down on skates and tell us about your own worst or most spectacular fall.
---
Related Links:
Skating Injuries
Skating in Sweden
Skating in 100 Countries
Translate Any Web Site or Phrase
---
Skating in Africa | Skating in Asia | Skating in Europe | Skating in Oceania | Skating in The Americas
Inline Skate Shop
Roller Skate Shop