Roller Derby Books
Roller Derby Videos
---
Vinicius Rosa of Brazil
World Class Aggressive Inline Skater
Vinicius Rosa of Brazil being awarded a gold medal for his outstanding performance at the inline vert competition of the May 2004 Latin Amerian X Games on Leme Beach in Rio de Janeiro, Brazil.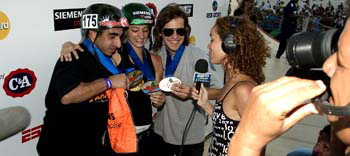 Vinicius Rosa (gold), Fabiola da Silva (silver), and Matheus Matiello (bronze)

Copyright © ESPN


This photo was taken at the awards ceremony of the aggressive inline skating vert competition at the 2004 Latin X Games. Pictured from left to right are in first place Vinicius Rosa, in second place Fabiola da Silva, and in third place Matheus Matiello, all from Sao Paulo, Brazil.


---
---
Related Links
Brazilian Aggressive Inline Skaters
2004 Latin American X Games
All X Games Since 1995
About Skating in Brazil
---
Skating in Africa | Skating in Asia | Skating in Europe | Skating in Oceania | Skating in The Americas
Inline Skate Shop
Roller Skate Shop