Roller Derby Books
Roller Derby Videos
---
Skate in Minnesota for 5 Days With Eddy Matzger
Zephyr Adventures is introducing a new five-day skating tour of Minnesota featuring Eddy Matzger as the special guest guide. The tour begins the day after the Northshore Inline Marathon in Duluth, Minnesota, the largest skating marathon in the North America.
Skaters on the 36 mile Root River Trail in Minnesota
Copyright © Zephyr Adventures
---
Minnesota Skate Tour Guided by Eddy Matzger
WHAT: Minnesota Skating Adventure
WHEN: September 18-22, 2005
START: Duluth (1 day after the Northshore Marathon)
FINISH: Minnapolis
GUEST GUIDE: Eddy Matzger
PRICE: $1400 USD

TRAILS:
Cannon Valley Trail
Chain of Lakes Trail
Gateway Trail
Root River Trail
Willard Munger Trail

HOTELS:
Saint James Hotel, Red Wing
Cottage House Inn, Lanesboro
Best Western Normandy Inn, Mineapolis


The concept of spending your vacation on skates, without any other inducement, might convince you to join one of Zephyr's tours. Throw in Eddy Matzger and the September skating adventure becomes an opportunity hard to resist.

Minnesota has the most paved paths of any state in the United States and features some incredible skating. For example, the 19-mile Cannon Valley Trail winding through forests along the Cannon River is privately managed and one of the smoothest paths around. The 36-mile Root River Trail(pictured above) has three spokes centered on the hub of Lanesboro, a small town voted both one of the top small arts towns and top small outdoors towns in America. And the granddaddy of them all, the 70-mile Willard Munger Trail, offers enough skating for anyone.

Of course, a Zephyr skate tour is not just about skating. Participants stay in quaint family lodges or historic hotels, eat excellent meals, and have a thousand laughs with new friends from all over. On Zephyr's September 18th tour, Eddy Matzger will also be offering advice on skating techniques and telling stories of his exploits on skates in such places as China, Egypt, and Bali.

Zephyr's owner Allan Wright is careful to say the September 18th tour with Eddy is not just for advanced skaters or racers. "Almost all our tours are for most skating abilities. Participants can choose among routes of varying lengths each day, we have a support van, and the goal is fun - whether that means pushing yourself or stopping to admire the scenery", says Wright.

Join Zephyr on their special Minnesota Skating Adventure with Eddy Matzger and, six years from now, you might be featured in one of Eddy's famous stories.
About Eddy Matzger
Here is a story by professional inline racer Eddy Matzger, about his visit with Zephyr Inline Skate Tours to Pennsylvania Amish Country back in 1999: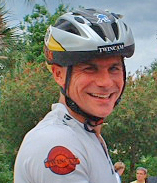 Tour Guide Eddy Matzger

© Kathie Fry

FROM EDDY MATZGER: "What's the name of your horse?" I asked a gentleman who rode his buggy convertible-style for the balmy weather, without the glass windshield in front. We were moving along a portion of land without an electrical pole or wire as far as the eye could see. The horse wasn't spooked in the slightest. "You'll never guess," he chuckled through his long yellowing beard. To which I made a stab and said "Chestnut," just then admiring the orangey-red of the horse's coat. "Chester!" the man exclaimed, and proceeded to launch into the story how years back he had been so impressed by a horse named Chester at the races. The gentleman then thrust his hand out of the carriage, and shaking mine vigorously, said with great enthusiasm: "I love meeting new people!" Thanks for such a wonderful welcome, kind sir.

This story, which Eddy tells to reveal the warmth of the Amish people to inline skaters, tells equally as much about the story teller. Eddy Matzger, in addition to being one of the winningest inline skaters in the history of the sport, is also a loving, carefree individual who seems to enjoy each moment of his unusual life and each encounter with the many people he meets.

While most inline skaters have never been on a skate tour and many have never even heard of Zephyr, close to 300 people each year join the company on skating vacations to such places as Switzerland, The Netherlands, Florida, and Nantucket. Zephyr has been operating since 1997 and has built a reputation and repeat participant base that has kept it growing amid the shrinking world of skating in the United States.

While the 1999 press tour in the Amish country was an exclusive press tour organized for magazines such as Vogue and Women Outside, everyday inline skaters now have the chance to spend time on skates with Eddy. Zephyr Inline Skate Tours is organizing a special five-day Minnesota Skating Adventure from September 18-22, 2005 with Eddy Matzger as a Guest Guide.



More Information:
Zephyr's Minnesota Skating Adventure
Northshore Inline Marathon
Skating in Minnesota
---
Visit Our 12 Skating Forums

Forums for discussing aggressive, artistic, beginning, hockey, fitness, recreational, roller basketball, roller derby, roller dancing, rollersoccer, quad skating, slalom skating, and speed skating.
---
Related Links:
Zephyr Tours: Would You Leave The Country With This Man?
Learning to Skate on Hilton Head Island
Rollerblade and Zephyr Form Skate Camp Alliance
Skating in 100 Countries
---
Skating in Africa | Skating in Asia | Skating in Europe | Skating in Oceania | Skating in The Americas
Inline Skate Shop
Roller Skate Shop