Roller Derby Books
Roller Derby Videos
---
2004 World Roller Figure Skating Championships
Catalonian "Freedom" Wins a World Championship for Spain
The first place finisher at the show skating competition of the 2004 Roller Figure Skating World Championships was a show team from an artistic roller skating club in the town of Olot in the Catalonian region of Spain.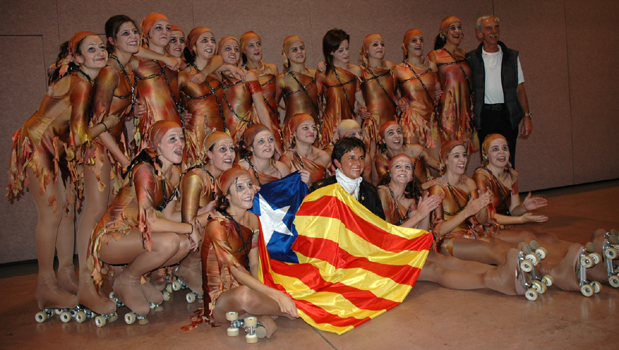 Copyright © Kathie Fry of SkateLog.com


The theme of the world championship performance was "Freedom" and for those in the audience who were familiar with the November 2004 FIRS/Catalonia situation the performance of these skaters from Olot felt like a gut-wrenching, heartfelt, last minute plea to the international skating community to allow the Catalonian Roller Sports Federation to be confirmed as a member of the International Roller Sports Federation. That decision will be made at the 2004 FIRS Congress in Fresno on November 26, 2004.
---

Related Links
2004 World Roller Figure Skating Championships
Olot Artistic Roller Skating Club (Garrotxa.net)
Skating in 100 Countries
Artistic Roller Skating
---
Skating in Africa | Skating in Asia | Skating in Europe | Skating in Oceania | Skating in The Americas
Inline Skate Shop
Roller Skate Shop