Roller Derby Books
Roller Derby Videos
---
2003 Los Angeles X Games
Aggressive Inline Vert Wrap-Up

Wrap-up report from ESPN for the Aggressive Inline Skating Vert Competition at the 2003 X Games.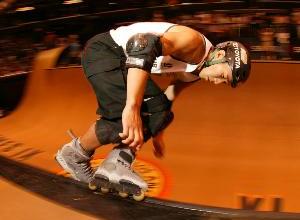 Eito Yasutoko: True Spin Topside Pornstar
Copyright © Konoske/Shazamm/ESPN
Eito Yasutoko Wins Third Gold Medal and Breaks X Games Inline Skate Record
LOS ANGELES ≠ Placing first and second in preliminaries, and then skating to gold and silver medals respectively, Eito Yasutoko and his younger brother Takeshi Yasutoko, both natives of Kobe City, Japan, dominated the elite field of skaters at the X Games IX Aggressive In-line Skate Vert final. The brothers proved again why theyíre the best in the business in front of an exuberant crowd at STAPLES Center.

Eito Yasutoko made X Games history, becoming the first male aggressive in-liner to win three X Games gold medals in his career. The brothers have won a combined total of ten X Games medals along with a slew of other Asian X Games honors.

Eito Yasutoko staked his claim to the gold in the final run of the event when he executed a winning line that contained a California roll, a flatspin 540, and an unheard-of three double backflips, including two traditional double backflips and one with an impressive 180 exit. Eito entered his final run in second place with only his younger brother Takeshi ahead of him in the standings. Takeshi and the STAPLES Center crowd cheered Eito onto a virtually flawless run and a daunting score of 97.25.

"I was nervous but I had to try the backflips," said Eito about his three-backflip final run. "I had to practice very hard and I owe thanks to my family." Eito and Takeshiís family was on hand to help them celebrate their victory, including their parents.

"I am so excited to win with my brother," said Takeshi Yasutoko. "I love coming to X Games. I have so much fun." The seventeen-year-old Takeshi has been competing on the pro circuit since he was nine years old. As an eleven-year-old in 1998, he became the youngest athlete to ever compete at X Games. Today, Takeshi scored a 95.75 on his first run to win the silver, landing several solid tricks including a flatspin, a boost and a 900.

Nel Martin (Canovelles, Spain) took third. Martin was a wild card entry and placed seventh in the preliminaries. He scored a surprising but well-earned 91.25 in his first run and it was just enough to win the bronze.

"Iím so happy," said Martin, "I didnít expect to place in the top three. I felt the scoring was very good."
Complete Results
Inline Vert Final Results
Inline Vert Preliminary Results
See Also
Aggressive Inline Park Men
Aggressive Inline Park Women
2003 Summer X Games - All Events
Related Links
Aggressive Inline at the 2003 Summer X Games
Aggressive Inline at the 2004 Summer X Games
Photos of the Top Pro Skaters
About Aggressive Inline Skating
---
Skating in Africa | Skating in Asia | Skating in Europe | Skating in Oceania | Skating in The Americas
Inline Skate Shop
Roller Skate Shop