Roller Derby Books
Roller Derby Videos
---
Is This Matheus Matiello of Brazil?
2004 Latin X Games

I'm embarrassed to be asking this question, but I really need the answer so... Can anyone confirm that the photo on this page and the ones on the next two pages are of Matheus Matiello of Brazil, bronze medal winner at the Latin X Games inline vert competition in Rio de Janeiro last weekend? (please send email to kathiefry@skatelog.com)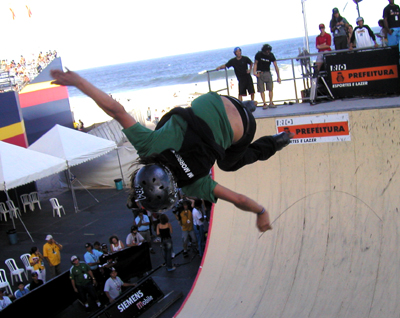 Copyright © Kathie Fry of SkateLog.com




Next Photo -->


Also, if this *is* Matheus, I would really love to have a good quality portrait (head and shoulders) photo of that I can use to create a special bio page for him.


---
Related Links
2004 Latin X Games
X Games - Main Menu
Aggressive Inine Skating
Skateboarding
---
Skating in Africa | Skating in Asia | Skating in Europe | Skating in Oceania | Skating in The Americas
Inline Skate Shop
Roller Skate Shop