Roller Derby Books
Roller Derby Videos
---
Skateboard Street Men Wrap-Up Report
2004 X Games in Los Angeles
ESPN wrap-up report for the Men's Skateboard Street Competition at the 2004 X Games on August 5, 2004 at Staples Center in downtown Los Angeles, Southern California.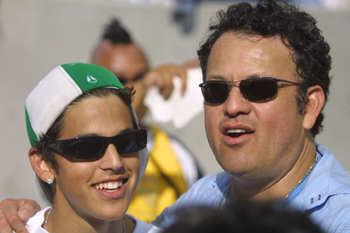 Gold Medal Winner Paul Rodriguez With His Father
Photo Credit: Shazamm/ESPN
P-ROD COMES OF AGE AT X GAMES X
Clean, consistent Rodriguez claims first contest win of career



Los Angeles, California - Thirteen years ago it was just $30.

Today comedian Paul Rodriguez, Sr. can just call it an investment. The initial cost of a skateboard for his then 6-year-old son Paul, Jr. turned into pure gold in Thursday's first event at X Games X.

Paul Jr. (Chatsworth, California) ripped apart the Skateboard Street course and cruised to the gold-medal - his first-ever as a pro - and a cool $50,000 for his efforts with a final score of 90.25. Just two years into his pro career, Paul Jr. is on top of the world.

"It hasn't hit me yet," gushed Paul Jr., who used a combination of front-side flipside backside tail slides and ollies throughout his quite clean runs in the jam format. "I never won a pro contest. It's amazing. It's the X Games. Wow."

For Paul Sr., the win was even sweeter because it helped get him off the hook for his son's "growing pains" in his early years. "When he was six he asked me for money to buy a skateboard," recalled Paul Sr. "And his mom called me ad said you better get him outside because he's skating all over our coffee table with the board you bought him."

Andrew Reynolds (Hollywood, California) scored his first X Games medal (silver) with a run that included frontside flips, nose manuals and a backslide over a bench that earned him a score of 89.75.

Bastien Salabanzi (Barcelona, Spain) made his X Games debut in third at 88.50. "I really liked the jam format a lot," he said. "I enjoyed the energy. It was a great vibe overall."

Last year's gold medalist, Eric Koston (San Bernardino, California), finished out of the medals in fifth with a score of 81.75.

Celebrating its 10th anniversary this year, X Games X is the world's premier action sports competition featuring more than 150 of the world's best athletes competing in: Aggressive In-line Skate, Bike Stunt, Moto X, Skateboard, Surfing and Wakeboard. The event is being held August 5-8, 2004 in Los Angeles with ]live primetime daily coverage on ESPN and ABC Sports. SportsCenter, ESPN's flagship daily news program, will also report LIVE from X Games X from August 5-7 for the first time in X Games history.
---
Related Links
Skateboarding at the 2004 X Games
2004 Los Angeles X Games
All X Games Events Since 1995
About Skateboarding
---
Skating in Africa | Skating in Asia | Skating in Europe | Skating in Oceania | Skating in The Americas
Inline Skate Shop
Roller Skate Shop