Roller Derby Books
Roller Derby Videos
---
2005 Asian X Games in Seoul Korea
Aggressive Inline Park Final Results
Final results of the aggressive inline park competition on May 27, 2005 at the ESPN Asian X Games in Seoul Korea. Pictured are Rian Arnold of Australia (center) who finished in 1st place, Sven Boekhourst of Holland (left) who finished in 2nd place and Chiaki Ito of Japan (right) who finished in 3rd place.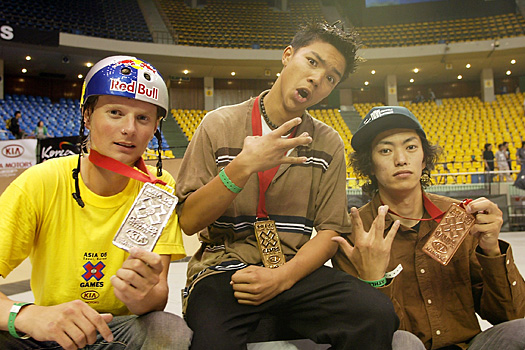 Sven Boekhorst (2nd) - Rian Arnold (1st) - Chiaki Ito (3rd)
Photo Credit: Simon Yap/ESPN
Inline Park Final Results
01. Rian Arnold (Australia) 93.25
02. Sven Boekhorst (Netherlands) 93.00
03. Chiaki Ito (Japan 87.75
04. Chien Kai Hung (Taiwan) 82.25
05. Soichiro Kanashima (Japan) 79.75
06. Carl Hills (United States) 79.25
07. Ji Hoon Jang (Korea) 77.00
08. Katie Ketchum (United States) 76.75 [Tie Breaker: 73.75]
09. Jeerasak Tassorn (Thailand) 76.75 [Tie Breaker: 61.00]
10. Marco De Santi (Brazil) 62.75
---
2005 Asian X Games - Main Menu
---
Visit Our 12 Skating Forums

Forums for discussing aggressive, artistic, beginning, hockey, fitness, recreational, roller basketball, roller derby, roller dancing, rollersoccer, quad skating, slalom skating, and speed skating.
---
Related Links:
Forum for Aggressive Inline Skaters
Aggressive Inline Skating - Main Menu
All X Games Events Since 1995
Action Sports - Main Menu
---
Skating in Africa | Skating in Asia | Skating in Europe | Skating in Oceania | Skating in The Americas
Inline Skate Shop
Roller Skate Shop