Roller Derby Books
Roller Derby Videos
---
The Wylde Bunch Will Perform at the 2005 X Games
The Wylde Bunch has been invited to perform at the 2005 Summer X Games in Los Angeles California.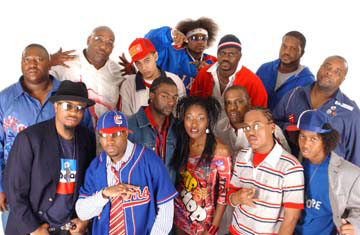 The Wylde Bunch has a lot of excitement planned for the balance of 2005. In the wake of the13-piece band's success (yes 13!!!) of their 2004 debut LP "Wylde Tymes At Washington High", the da WB is back with a fun, energetic and highly contagious new EP "In The Meantyme.. The EP". The "Meantyme" project features a few characteristics of the "Wylde Tymes" album, great songs and super-sized hooks. The first single and video "Dumb!" is a catchy rock/hip-hop shot of adrenaline perfect for college and indie radio. The EP releases August 23 along with The Wylde Bunchís live concert DVD "Plugged", tour, and the launch of their online store. The WB will also begin touring in August of 2005 with many U.S. stops including ESPNís X Games, August 6 at the Home Depot Center in Carson, CA. Fans seem to know of The Wylde Bunch from one perspective or another...

Gamers tend to know the Bunch from their music appearing on top video games like Madden 2005, NBA Live 2005, NFL Street, Playboy Mansion and Gran Turrismo; college and high school kids know Wylde Bunch from their LP, ring tones, the single "Last Day Of School" (over 70,000 sales/downloads); tons of fans know The WB from the Black Eyed Peas Tour, Rock The Vote Tour, and Sprite Liquid Mix Tour, to name a few.. but EVERYBODY knows The Wylde Bunch for their hyperactive, maniac live shows!!!

"The Wylde Bunch experience", as the live shows have come to be known, are as much visual as they are musical. When The Wylde Bunch leaves the stage you can physically feel your body returning to normal from the intensity level that their performances take you to. There is nothing live being front row at a Wylde Bunch concert... and there is nothing in the marketplace like The Wylde Bunchís new record "In The Meantyme... The EP" . Look for it August 23, everywhere.

Info and tour schedule online at WyldeUnderground.com.
---
Related Links:
Bands at the 2005 Summer X Games
Athletes at the 2005 Summer X Games
2005 Summer X Games - Main Menu
Action Sports
---
Skating in Africa | Skating in Asia | Skating in Europe | Skating in Oceania | Skating in The Americas
Inline Skate Shop
Roller Skate Shop