Roller Derby Books
Roller Derby Videos
---
X Games Athletes Visit an Orphanage in Thailand
A group of top X Games athletes and world champions visited an orphanage in Bangkok, Thailand on March 26, 2005. Athletes included in the group included inline skaters, skateboarders, BMX riders, and motocross riders.
WORLD'S BEST ACTION SPORT ATHLETES
SPEND A DAY AT THAILAND'S LARGEST ORPHANAGE
Athletes Perform At The Thailand X Games Cup For the Rajaprajanugroh Foundation While Supporting One Of Its Sponsored Orphanages

In an effort to raise money and awareness towards the Rajaprajanugroh Foundation, together with ESPN Inc., ESPN STAR Sports, the athletes joined together to donate a portion of the proceeds from the event, including a portion of the athletes' appearance fees that will go towards the Foundation. Today at the event, the athletes put on a free show for more than 5100 spectators at the Stadium where the event will continue through Sunday. Earlier in the day, the X Games stars put on a show off the vert ramp for more than 150 orphaned children where they served ice cream and handed out toys. The Supanimit Orphanage is the most famous and largest orphanage in Bangkok and supported under the Rajaprajanugroh Foundation.

"It was heart-wrenching. I just wanted to scoop them all up and take them home," said BMX rider Kevin Robinson about the visit. "I look at my own daughter and see how much love she has from her two parents and feel sad that these children don't have that." Skateboarders Bob Burnquist and Jen O'Brien brought an entire suitcase full of coloring books, crayons, stuffed toys and more from the USA to hand out to the children.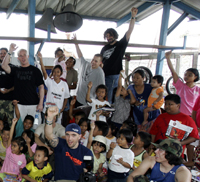 The weekend-long event will showcase several former and current X Games champions, including aggressive in-line skaters Fabiola da Silva (Brazil) and the Yasutoko Brothers (Japan); BMX riders Mat Hoffman (USA), Kevin Robinson (USA), Jamie Bestwick (U.K.) and Koji Kraft (USA); skateboarders Bob Burnquist (Brazil), Sandro Dias (Brazil), Pierre-Luc Gagnon (Canada) and Mathias Ringstrom (Sweden); moto X riders Justin Homan (USA), Derek Cook (USA) and Jesse Olsen (USA).

In addition to the planned demos, the Thai Extreme Association's top 15 ranked athletes will compete in Bicycle Stunt Park, Aggressive In-line Park, Skateboard Park. The top finisher in each discipline will receive an all-expense paid trip and invitation to compete in the Asian X Games 2005 presented by KIA in Seoul, South Korea from May 26 – 29. Today in the Bicyle Stunt Park final Chansree Wootisak of Chaingmai, Thailand grabbed the gold and the trip to Korea in May.

The Thailand X Games Cup 2005 enjoys high-level sponsorship and organizational support from official host Tourism Authority of Thailand; Powered by True and Orange; Official Mobile Handset, Motorola; Official Automobile, KIA Motors, and Official Television platform UBC. Additional support comes from Siam Motor Sport and Sport Radio.



See Also

2005 Thailand X Games Cup - Main Menu
---
Related Links
All X Games Events in 2005
All X Games Since 1995
Action Sports
Skating in Asian Countries
---
Skating in Africa | Skating in Asia | Skating in Europe | Skating in Oceania | Skating in The Americas
Inline Skate Shop
Roller Skate Shop