Roller Derby Books
Roller Derby Videos
---
X Games Move to Los Angeles
2003 and 2004
from ESPN on November 21, 2002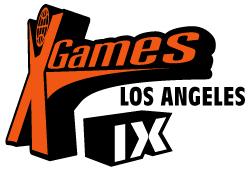 ESPN SELECTS LOS ANGELES TO HOST
X GAMES IX AND X (2003 and 2004)

STAPLES Center Primary Venue In August 2003 & 2004
For World's Premier Action Sports Event


ESPN, Inc. has selected Los Angeles to host the next two X Games, the original and definitive multi-day action sports competition, starting with the ninth annual event, August 14 - 18, 2003. The announcement was made today by ESPN President George Bodenheimer and AEG President and CEO Timothy J. Leiweke. AEG -- owner and operator of STAPLES Center -- which will serve as the primary venue for the X Games, represented the City of Los Angeles in reaching the agreement. The X Games showcases more than 300 of the world's best action sports athletes competing in a variety of sports categories for medals and prize money.

Under the terms of the two-year agreement, competitions in Bike Stunt, Moto X, Skateboard, Aggressive In-line Skate and Speed Climb will be held inside and around STAPLES Center (Aug. 14-18). The Moto X Freestyle event will be held in the Los Angeles Coliseum at night under the lights (Aug. 15 or 16), while Wakeboard, Skateboard Street and Downhill BMX will take place the week prior at locations to be determined.

"Southern California is the action sports hub and the X Games will reach new heights in the City of Los Angeles," Bodenheimer said. "After collaborating with AEG on a successful ESPY awards earlier this year, we are confident that our combined promotional reach will strengthen the growing significance of the X Games as an elite sports championship event. The world-class STAPLES Center and other neighboring venues will set the stage for a spectacular experience for our athletes, fans, sponsors and affiliates over the next two years."

Leiweke added, "This is a major coup for Los Angeles. Not only are the X Games a phenomenal event that receives worldwide distribution and interest, it creates a $50 million annual impact to Los Angeles. We are grateful to our friends and partners at ESPN and acknowledge the leadership of Mayor Hahn and the business community of Los Angeles for making this a reality."

Los Angeles Mayor Jim Hahn said, "We fought hard to let ESPN know that Los Angeles wanted to host the X Games, and we are thrilled that they have chosen Los Angeles to host not one but two X Games -- including the 10th Anniversary Games. Los Angeles has hosted two Olympic Games and championships in virtually every major sport, and is the epicenter for action sports. We are eager to join with ESPN to build on the already tremendous success of the X Games."

"We are proud to partner with ESPN to bring the X Games to Los Angeles," said Los Angeles City Councilmember Jan Perry. "Not only will this tremendous event focus worldwide attention on our downtown, it will generate over 10,000 room nights for our hotels and $50 million for our economy."

ESPN and AEG have worked together on previous arrangements, including this past July when the ESPY Awards were brought to Los Angeles, and on World Cup and Major League Soccer (MLS) agreements.

ESPN, ESPN2 and ABC Sports will combine to televise more than 20 original hours of X Games coverage annually, while ESPN International will distribute the Games worldwide. In addition, EXPN.com, the year-round home for action sports and culture will offer extensive coverage, including streaming video from the X Games.

The City of Philadelphia hosted X Games VII and VIII (2001 and 2002). While the economic study for 2002 is still pending, X Games VII in 2001 produced an estimated $42 million in economic impact. The first two X Games were held in Rhode Island in 1995 and '96. The event moved to San Diego (1997, '98), and then to San Francisco (1999, 2000).

X Games VIII in Philadelphia was the most-watched X Games ever as 62.7 million people in the U.S. tuned in on ESPN, ESPN2 and ABC. ABC's first-ever primetime X Games telecast was the highest-rated and most- watched X Games program ever and it produced ABC's highest summer ratings in the Sunday 7-9 p.m. time period among adults 18-34. In terms of on-site support, more than 221,000 fans attended the event, including the two millionth spectator in the history of the X Games, while the main venue averaged 40,210 spectators daily.

About ESPN's X Games Franchise
ESPN, the worldwide leader in action sports, first developed its X Games franchise in 1995. The X Games, Winter X Games (Winter X Games VII in Aspen, Jan. 30-Feb. 2, 2003), EXPN 2Day, and the newly introduced X Games Global Championship (inaugural event set for May 2003) are just some of the original action sports programming currently shown on ESPN and ESPN2. The brand has also grown to include X Games Skateparks, ESPN's Ultimate X (large-format film), X Games products and more.

About AEG
AEG is one of the leading sports and entertainment presenters in the world. AEG, a wholly owned subsidiary of The Anschutz Corporation, owns or controls a collection of companies including facilities such as STAPLES Center, the London Arena, The Forum (as exclusive booking agent for sports and entertainment programming), HealthSouth Training Center and NextStage at Grand Prairie and Kodak Theaters (as operators); sports franchises including the Los Angeles Kings (NHL), five MLS franchises, management of shares of the Los Angeles Lakers (NBA) and Los Angeles Sparks (WNBA) owned by Philip Anschutz; AEG Live, a collection of companies devoted to all aspects of live entertainment, and more.

AEG is currently overseeing the development of L.A. Live, a proposed 4 million square foot development featuring a 7000-seat state-of-the-art live theatre, a 1200-room convention "headquarters" hotel along with entertainment, restaurant, residential and office space all adjacent to STAPLES Center. In addition, AEG is spearheading the creation of Home Depot Center, a $130 million national training "campus" that will include major facilities for soccer, tennis, track & field, cycling, volleyball, basketball and other sports in southern California. The company was recently selected to fully develop the 28-acre Millennium Dome and adjacent property located in the eastern part of London along the Thames River and will create new arenas within the Millennium Dome and on a 50-acre site in the heart of Berlin.

For further information including event and sport histories, past schedules and athlete bios connect to Expn.com.




Inline Skate Shop
Roller Skate Shop