In April of 2001 Swedish inline speed skater Daniel Edman traveled with 40 other skaters from Stockholm to the island of Mallorca, Spain for a holiday week of skating and fun.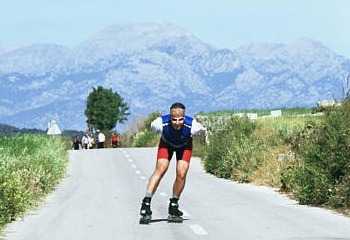 Daniel Edman Skating in Mallorca
Photo Credit: Ulf Haase
A WEEK OF SKATING IN MALLORCA, SPAIN

by Daniel Edman of Stockholm, Sweden


My name is Daniel Edman and I am a Swedish ice and inline skater living on the east coast of Sweden in the City of Stockholm. Maybe I should really regard myself as an "inline hang-around", but I sure do like the sport. In April of 2001 a group of Swedish skaters made a trip to the Spanish island of Mallorca in the Mediterranean Sea. The objective was to get in some early-season inline skating in better conditions than Sweden can provide during that time of the year.



Inline Skating in Stockholm


To give you a better understanding of the inline skating season in Sweden: the Swedish summer is fairly short. From April to September there might be conditions suitable for inline skating, but the weather is not always reliable. The summer weather conditions can be very different from year to year. Last year the summer weather was dreadful with almost constant rain. And inline skaters do not like that, do we? Last fall was pretty dry and we could skate fairly late even though the evenings got dark early. When daylight savings time ended, it got completely dark around 5 p.m., which made skating in the evening somewhat tricky.

When it started getting dark so early, we found a parking garage in the basement of the Stockholm Fairground in Alvsjo, which provided good and dry concrete conditions with something like a 650 meter "oval track". Not that it turned us on, but at least it was a place where we could skate and keep ourselves fit until the lakes froze and we could go on ice again. Most inline skaters over here began as long distance ice skaters. When inline skating grew popular a couple of years ago we found out that the technique was similar and inline skating was a good way to keep fit during the summer.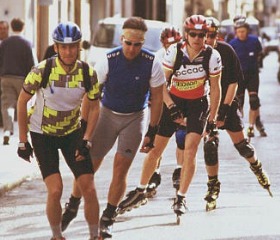 Photo Credit: Ulf Haase




Planning the Trip to Mallorca


While doing lap after lap in that parking garage last fall someone came up with the idea of going abroad to skate during the winter - someplace nice and warm. Johan Cerne told us he had been to Mallorca the previous spring and found excellent skating conditions there. We all got very excited about that and I remember I envisioned 8 to 10 hard-core skaters leaving on an airplane in the middle of the winter. A few days later there was an e-mail circulating with travel information and the rest is history. On April 21st approximately 45 Swedish inline skaters met at Arlanda Airport for a 7 day skating trip in the surroundings of Port dŽAlcudia on the northeast coast of Mallorca

This article is a description of the week from my perspective, seen with my eyes and heard with my ears. IŽm trying to give a little more than just plain route information since I hope to inspire some of you inline skaters out there to either do a similar trip or even join us when we take our next trip. (For those who are fluent in Swedish there is a Swedish version of this article available at SSSK.se the Web site of the Stockholm Ice Skating Association).

Finally I would like to say a huge "Thank You" to Johan Cerne who spent 9 days on Mallorca the year before and covered 700 km in his search for excellent skating conditions. Ulf Haase also made a huge contribution, since he is the one who carried the camera and took most of the photos. Marten Ajne carried a GPS receiver and could therefore provide some interesting speed and distance data. Last but not least, Kathie Fry brought international feeling to the trip by her participation. Thank you, it was great having you with us, Kathie.




Part 2 of this Article -->




---
Related Links
More Articles by Daniel Edman
Skating in Spain
Skating in Sweden
Skating in 100 Countries
---
PARTNER TRAVEL WEB SITES: | Africa | Asia | Europe | Oceania | Panmerica |
Skating Forums


The

SkateLogForum

was closed in March of 2020 but archived copies of all of the posts between August of 2006 and March of 2021 are still available for viewing.
New discussions can be posted in Jessica Wright's

SkateDebateForum

. Jessica was selected to host the follow-on to the SkateLog Forum because of her excellent job, for many years, as the co-administrator of the SkateLog Forum.
- SkateLog Forum Archives
- Skate Debate Forum